*Special Franchise Offer* - Read more about our special franchise offer.
At Aussie Pooch Mobile our motto is 'We Care' and our company culture of Caring, friendly and fun carries through from management and staff to franchisee and onto the customer and their dog.
Aussie Pooch Mobile may just be the perfect business for you in the rapidly expanding, billion dollar Pet industry.
The Aussie Pooch Mobile dog wash franchise offers a flexible lifestyle and rewarding career with the backing of a company that has won numerous awards for dog washing and grooming excellence and excellence as a dog wash franchise offers everything you need to help get your mobile dog wash franchise off the ground. Plus, continuing support to succeed long term.
When you become an Aussie Pooch Mobile dog wash and groom Franchisee you will be rewarded. Low entry costs, minimum overheads and the immediate recognition of being part of an industry leader are just the beginning. Strong teamwork, leadership, proven systems, a great product and committed support help ensure your business success.
Mobile Dog Wash Franchises are available in all major Capitals of Australia as well as some regional areas.
Community involvement is high on the list with franchisees participating in charity events ranging from the Variety Club Jet Trek, Million Paws Walk, Doggy Fantastic Camping Weekends, Bathathons and Doggy Dating Days.
"I love participating in charity events," says Aussie Pooch Mobile Franchisee Toni Ambrose who has just won Franchisee of the year. I know I speak for all of us in saying that we are so fortunate to be doing something we love, that we want to be able to give back to the community. And it's so much fun."
"You not only help raise money for those in need, but you meet some fantastic people and if you're a social butterfly like me, it's even better. An Aussie Pooch Mobile pet care franchise isn't just a job, it's great way of life."
It's a sentiment echoed by David Michael who in the past 12 months has washed over 4000 dogs and has loved every minute of it.
"I've been an Aussie Pooch Mobile franchisee for 10 years and have never looked back. I have the best job you could ask for, have made so many new friends through Aussie Pooch Mobile. In the first six months I lost 20 kilograms and have never put the weight back on, and best of all I now have the freedom to really enjoy my life."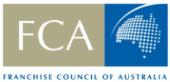 So why not make all your dreams come true and become an Aussie Pooch Mobile Franchisee.
It will change your life.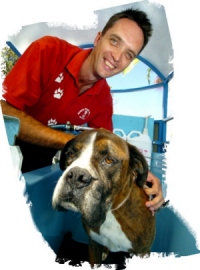 Regional Franchise Opportunities
Did you know that as well as offering our dog wash and grooming franchise opportunity in the major cities Aussie Pooch mobile also has franchises available in regional areas of Australia giving people the opportunity to enjoy our successful business without having to live in the big city. Areas currently available include:
Queensland - Cairns, Townsville, Mackay, Rockhampton, Gladstone, Bundaberg, Maryborough, Sunshine Coast (Both new and existing areas available), Gold Coast (Both new and existing areas available), Toowoomba.
New South Wales - Tamworth, Coffs Harbour, Forster, Hunter Valley, Newcastle, Central Coast, Wollongong, Goulburn, Orange, Dubbo, Wagga Wagga, Albury.
Victoria - Bendigo, Ballarat, Geelong
Tasmania - Hobart
South Australia - Adelaide Hills, Mt Gambia,
Western Australia - Bunbury, Geralton, Kalgoorlie, Rockingham, Mandurah, Albany
Northern Territory - Darwin
If you live in one of these regional areas and would like more information on how you could be involved in an exciting new mobile franchised business then complete the franchise enquiry form and a support manager will contact you or call Mark on 0411 553 796
Further Exciting Information on franchising
Aussie Pooch Mobile are the number one dog wash and grooming experts. They have continually been awarded the best dog wash franchise opportunity in Australia. So if you are a dog lover looking to buy a dog wash business or buy a franchise in the best dog cleaning and dog grooming franchise with flexible work in school hours then this may be the franchise business for you.
The mobile franchise offered by Aussie Pooch Mobile are the dog wash and care experts for your K9 pet or puppy. The mobile hydrobathing franchised business opportunity caters for all breeds including Alsatian, Collie, Dalmatian, Spaniel, Golden retriever and Poodle including puppies.
The pet care franchise was the concept of Christine Taylor who had a dream of offering part time franchise opportunities and full time franchise opportunities for women and men. Christine Taylor won the franchises for women in business award and is a working woman dedicated the international franchise system operating as Aussie Pooch Mobile in Australia, The Pooch Mobile internationally throughout another five countries.
So if you are looking to buy a business offering home services and would like to work with animals then the Aussie Pooch Mobile is the franchise for you. For further information complete the franchise enquiry form and a support manager will contact you or call Mark on 0411 553 796.