Aussie Pooch Mobile, Empower Assistance Dogs and Variety the Children's Charity, work very closely to empower special children. They do so by raising funds and training these very special assistance dogs.


About Empower Assistance Dogs
The team at Empower raise, train and locate dogs that enhance the quality of life and independence for people with disabilities. Empower Assistance Dogs are now the first organisation to be certified under the Queensland Government Guide, Hearing and Assistance Dog Act 2009. As a result they are able to train all three types of service dogs – guide, hearing and assistance dogs.
What can a service dog be trained to do?
Depending on the type of disability, vision or hearing impairment in the new owner will determine what the team at Empower train each dog to do. Hence, Empower trains each dog specifically to their new owners needs. Here are just some of the tasks they can train these incredible dogs to do…
Alert to changes in ground levels
Help to avoid obstacles
Alert for help
Help to avoid oncoming traffic
Find objects
Alert you to specific sounds like a phone ringing
Carry items up and down stairs
Opening and closing doors
Alert family member
Help to reposition their owner
Pull blankets on or off
Retrieve items including emergency medication
Turn lights on and off
Unload items from washer and dryer
The Aussie Pooch Mobile contribution
Aussie Pooch Mobile has been fundraising through the Variety Children's Charity for Empower Assistance Dogs and incredible children since 2007. You will find that our Aussie Pooch Mobile dog groomers are continuously throwing themselves into many events to help raise money for not only Empower Assistance Dogs, but other charity's around Australia as well. But Empower Assistance Dogs are a charity very close to our hearts and we are over joyed to be apart of such a wonderful cause. Furthermore, we can't wait to see more smiles on the faces of both the dog and their special owner when they unite as one after the completion of their training.
Every little bit helps…
Your generosity means the Empower Team, Variety and socially responsible, caring businesses like Aussie Pooch Mobile dog wash and grooming can raise, train and locate more assistance dogs to empower these special children. Your donation is Tax Deductible (over $2) and every dollar helps.
Click donate to help Aussie Pooch Mobile raise funds for these amazing assistance dogs.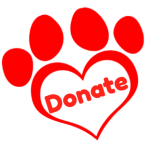 1300 369 369 / Visit our website / Follow us on Facebook