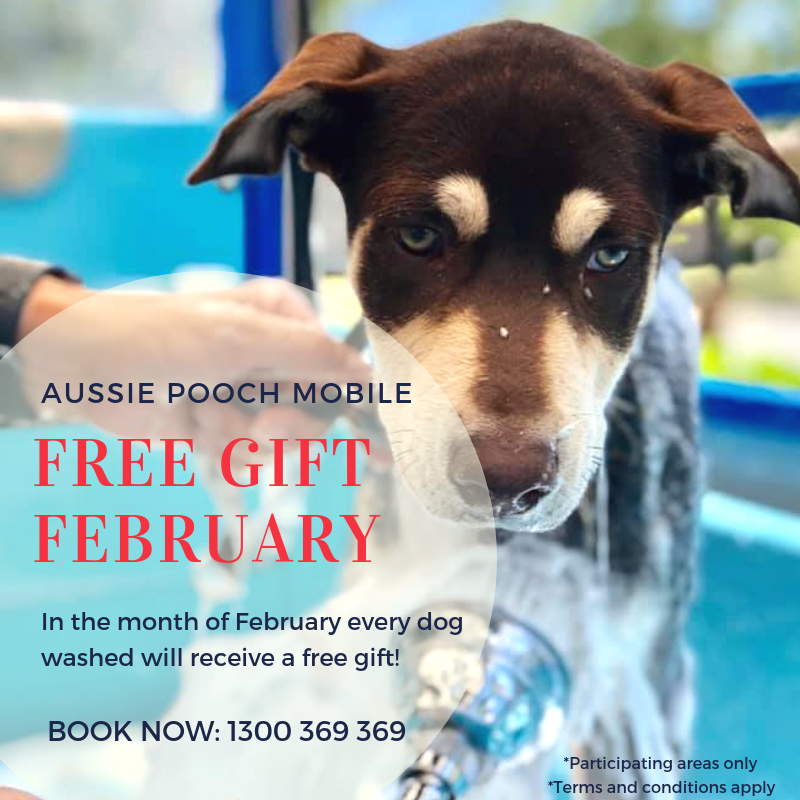 That's right! In the month of February we will be giving away a free gift to your furry friends when you book them in for a hydrobath! Keep reading below to find out what our classic service includes and other frequently asked questions answered about our mobile hydrobath service.
Frequently Asked Questions
What is included in the Classic Hydrobath service?
The Aussie Pooch Mobile classic hydrobath service includes a warm, fresh water bath using environmentally friendly solutions. A massaging brush, nail clipping, ears and eyes cleaned, deoderise to ensure your pooch smells great, blow dry to remove excess water and is finished with a yummy doggy treat for your best friend. And in the month of February, a free gift for your pooch!
How much do you charge?
We often get asked this question and because no pooch is the same, it's best to chat to our caring Aussie Pooch Mobile groomers about your dogs size, breed and condition of their coat. To get in touch with your local groomer so they can provide you with a complimentary quote. Click HERE.
Mobile? Does that mean you come to me?
Yes, that's right. You're caring groomer will drive to your home and bath your pooch in their fully equipped dog grooming trailer saving you time and hassle.
Do you provide Pooch Massage and additional services?
We certainly do. Aussie Pooch Mobile provides a range of additional services to help take better care of your furry friend. These can be added onto your classic hydrobath service and include a deshedding service, Aromacare Dog Facial, Pooch Massage plus much, much more… Make sure you ask your local groomer what additional services they can provide for your best friend.
How can I turn my love of dogs into a successful career? 
If you are passionate about dogs, then we are passionate about helping make 2019 the year you do something you love. We are always looking for franchisees as our groomers are bursting at the seams due to increasing demand for our services. We provide comprehensive training, ongoing support from an experienced support team, a proven system with over 26 years experience and the work-life balance you have always dreamed of. If you would like to know more about joining our pack and heading out for a discovery day with one of our pooch loving groomers, email us at opportunity@aussiepm.com.au or alternatively call Mark Welham direct on 0411 553 796.
Contact us today on 1300 369 369 or click HERE to find out the details of your local Aussie Pooch Mobile dog wash groomer. 
1300 369 369 / Visit our website / Follow us on Facebook / Join our Pack