We are delighted to share some exciting news that brings joy to both pets and their owners alike. Aussie Pooch has officially joined forces with KONG and Guide Dogs Qld in a heartwarming partnership through the KONG Play It Forward promotion.
Here's the scoop: when you purchase any KONG Rubber product through Aussie Pooch Direct, KONG will make a generous donation by providing one of their fantastic toys to Guide Dogs Qld, our chosen charity. This initiative aims to enhance the lives of guide dogs during their downtime, offering a perfect balance between their hard work and well-deserved play.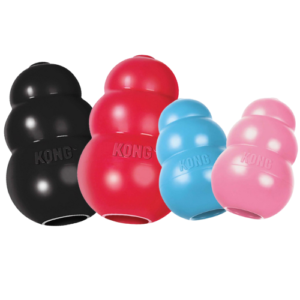 But that's not all! We're thrilled to announce that you can also support this wonderful cause by purchasing any KONG Rubber from your local Aussie Pooch Mobile Dog Wash groomer. In this case, KONG will provide a toy to the local groomer's charity of choice. This means your purchase not only brings joy to your own pets but also supports a cause that resonates with your local community.
Guide dogs play an indispensable role in supporting individuals with visual impairments, and we believe they deserve all the love and joy they can get. By being a part of this partnership, you are not only treating your own pets to top-notch toys but also contributing to the happiness and well-being of these incredible service animals.
We're incredibly proud to embark on this journey, and we invite you to join us in making a positive impact and Play It Forward. Every purchase you make through Aussie Pooch Direct or your local groomer helps in providing a KONG toy to a guide dog in training or a charity chosen by your local groomer.
Together, let's make a difference and bring smiles to both our pets and those who serve as their loyal companions.
1300 369 369 / Visit our website / Shop / Facebook / Instagram / Join our pack / Youtube