Together our vast network of Aussie Pooch Mobile operators can help spread the word about animal welfare issues and be proactive in raising awareness and funds for different programs that improve the lives of mans best friend.
Million Paws Walk

Each year the RSPCA conducts its annual Million Paws Walk. Together with other supporting companies the event creates awareness of their dedication to protecting the animal welfare. Its also a great opportunity to encourage responsible pet ownership within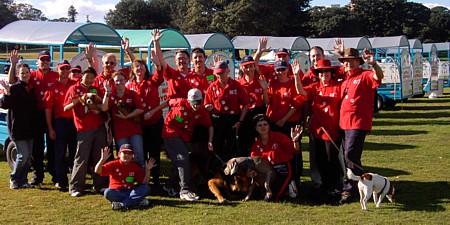 the community and raise much needed funds for animal welfare services.
Aussie Pooch Mobile Dog Wash has been involved with the RSPCA for 19 years and participate in the Million Paws Walk around the nation each year.
The RSPCA Million Paws Walk continues to be a major highlight in the Aussie Pooch Mobile calendar and each year we help raise thousands of dollars to help support those animals in need, and we couldn't do it without your help.
To view photos taken at the events, check out our Facebook page.
Charity Bathathons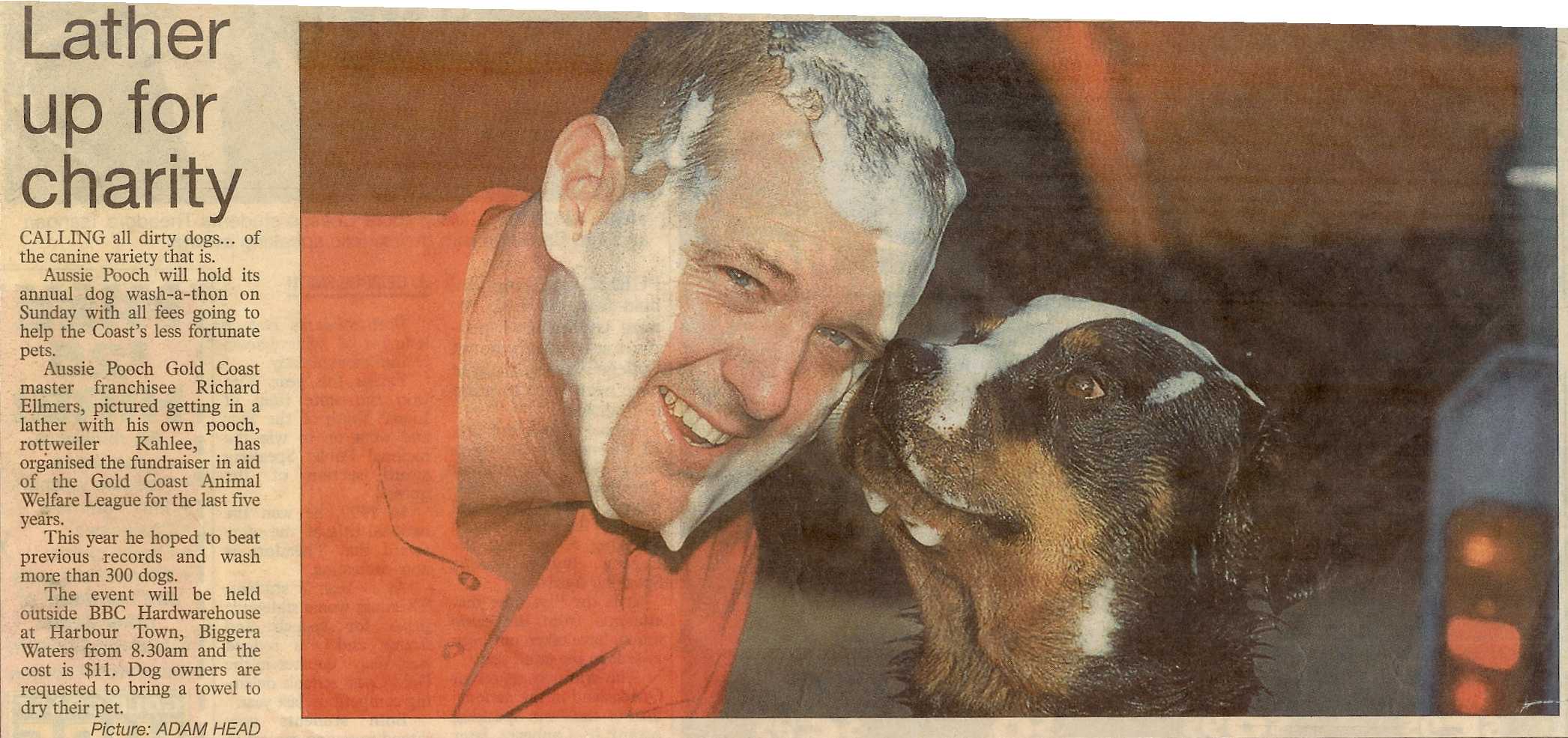 Another community fundraising activity that Aussie Pooch Mobile conducts are Bathathons. A team of our operators get together and raise much needed funds for animal welfare clubs. The members of the clubs and general public are encouraged to bring their pooch along to be bathed and the proceeds are donated to the event holders. If your organisation would like help from Aussie Pooch in fund raising please feel free to drop us an email.
Pet Rescue
Pet Rescue is a not-for-profit organisation that finds new homes for lost and abandoned pets. They believe every homeless pet deserves the chance to find a new loving family, but with rescue groups across the country struggling to feed and care for animals, many pets miss out on homes simply because nobody knows they are available.

Find your new best friend here!
Roxy's Story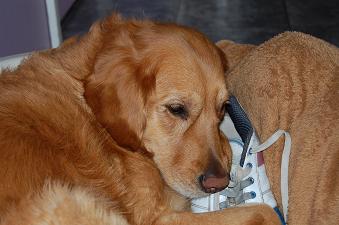 My name is Roxy,  I am a 5 year old golden retriever and this is my story.  My life started with my original owner who did not take care of me or my brother. We lived together and I had my first litter of pups when I was only a puppy myself. My owner then decided to surrender me and my brother to the RSPCA in Yagoona when I was pregnant with my third litter of puppies. I was just 2 years old.
I had been starved during my pregnancy, I was frightened and lonely and had no idea where my brother was and had no home to go to.  I was not well and my fur had begun to fall out.
It was Christmas time and the RSPCA in Sydney was overflowing with other dogs like myself that had owners that for some reason did not want them anymore. My brother found a lovely home with a good friend of an RSPCA volunteer. Since I was so weak and the RSPCA was unsure of both my outcome and my puppies they had to decide what was going to be best thing to do.
The vets thought I or the pups would not make it through the birth, so the decision was made to end my life. I then decided to save myself and my puppies by going into labour and therefore determining my own destiny.
I gave birth to 6 puppies. Since I had contracted kennel cough I in turn passed it onto my pups. We were all sick and weak and there was not enough space at the RSPCA in Sydney.  We had to be sent to Newcastle at the RSPCA in Rutherford . They did not have the space and so the race was on to find a foster home for us. This is where Aussie Pooch Newcastle came to our rescue. Ray, the Aussie Pooch Mobile Master Franchisee was contacted by the RSPCA to ask if he knew if any of his customers would be in a position to foster us.  He said he did. Jenny a customer for 7 years had just had her 13 year old goldie put down and was missing him dearly.  Ray thought we were just what she needed to help with the grieving process. So, it was settled,  Jenny would care for us as long as we needed her.
The puppies were still very sick and I was so weak, frightened and tired, I just needed time to rest so I could become stronger for my puppies.  For the first 2 weeks, I hid behind the lounge chairs in between feeding my puppies.  Jenny was patient with me and we began to bond very quickly.  I was becoming attached to Jenny and I was hoping Jenny was becoming attached to me.  I had decided this was going to become my new home and I wanted Jenny to become my new mum.  Jenny's neighbour, her mum and sister came everyday to help me with my pups. Due to my weak state I lost my milk at 3 weeks so my pups had to learn very quickly to lap milk from a dish. Jenny had named one of my pups Treacle, she was the one that taught the rest of the pups how to drink the milk.
In the third week my dream came true, Jenny made the decision to keep me and she then became my mum.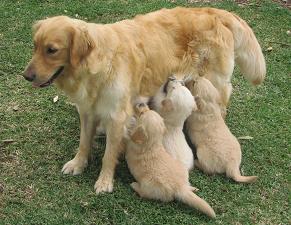 The puppies thrived and at 9 weeks they were ready to go to their new homes.  The RSPCA decided that Golden Retriever Rescue were to find wonderful homes for 4 of my pups. A lady from the RSPCA kept one and an Aussie Pooch customer took the other one.  My little family had found great homes.
It was time for me to recover. My confidence was down and I was missing my brother. Ray introduced me to his 3 beautiful golden retrievers and we are now the best of friends. Jenny and myself became members of the Newcastle Dog Club where I took to obedience immediately. I met lots of friends and it built up my self confidence.
Jenny had been part of Aussie Pooch Newcastle for over seven years as a customer. Through my journey, she decided it was time to become one of the team.  Ray encouraged her to come on board. I like to think that my long and difficult journey has made the team at Aussie Pooch Newcastle possible.  Ray and Jenny care for dogs on a daily basis.