Aussie Pooch Mobile prides itself on providing a convenient, affordable, reliable and efficient service to maintain and achieve your Pet's best well being. Shown below are some of the Dog wash and grooming testimonials that Aussie Pooch Mobile has received from our customers.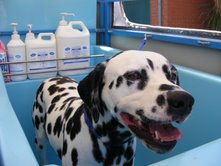 I have had Belinda come and wash my two dogs Becky and Roo for over a year now. She does a fantastic job and always treats them with special care. I just love the Lavender Aromacare that she uses; it makes the dogs smell great. Recently Roo passed away and she sent us a condolence card, which was lovely to know she was thinking of me. I love pampering Becky and would not have her bathed any other way.
Mrs O'Connell
I have come to depend on the service, and I don't know how I managed before. Physically I am finding it harder to care for my dog, so the service is even more invaluable to me.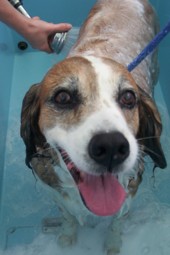 Mrs. Wilson
We find since using the Aussie Pooch Mobile Service the dog doesn't scratch so much (as she has had a skin complaint) She just loves the bath and loves Chris the operator. The dog is a big dog. It has been a tremendous help to have the dog hydrobathed.
R & F Citewell
Since his fortnightly treatment our dog has lost the 'itch' and is a much healthier mutt. Elaine (Operator) is his secret love. She is a very competent, friendly, intelligent lady and is a credit to your organisation.
Patrick D. Rouse.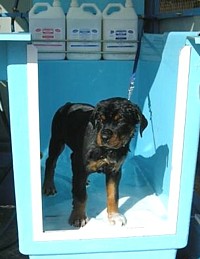 We have used the Aussie Pooch for about 6 - 8 months and have been extremely happy with them. Our dog (49kg Rottweiler) looks forward each time to the bath and the handler is very efficient and pleasant. I would recommend this service to any pet owner.
Mrs. Mitchel
My service lady is very reliable and always on time and is very good with my dogs, especially the guard dog.
Mrs. Holloway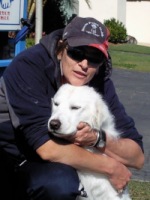 To whom it may concern,
My name is Tina and I live on the Gold Coast. I would like to comment on the wonderful service that I receive from one of your employee's on the gold coast. I am sorry I do not know her surname but her first name is Jayne. I use to have two dogs that she would come and wash then due to circumstances beyond my control I had to move and could only take one dog with me. now being on my own and not sure at what times to worm him etc, Jayne not only comes over to wash my dog (Jasper) but also instructs me on how to care properly for my dog.  I had to buy ear cleaner which she is happy to do for me as i'm not to sure what I am doing as well as giving my dog worming tablets as I am too scared to give it to him myself... I talk to her about problems I have with my dog and she has helped me to no end. She has also saved me on many a trip to the vet and saved me money in the long run.
I find Jayne to be nothing but completely competent, loving with my dog and she treats my dog as her own and when she talks about the other dogs she looks after she talks like they are her own and always smiling even when she has had a long day and still finds the time to fit my Jasper in for a wash. She is friendly with my dog and he loves her.
I honestly can not say enough about how impressed I am with her professionalism. I just wanted to write to you to let you know what a fantastic employer you have working for you. Even when she rings to book Jasper in she asks how I am and talks to me like a friend and not just a customer.
I am the sort of person that will get someone in to do something on a regular basis to do something for me but then lose interest or end up not affording what I signed up for. But Jayne she has been my dog wash lady for the last 2 years and although there are times I can't afford it, I will still get her around as not only does she take complete care of jasper she also is a wonderful person to talk to and I feel better with handling my dog when she comes around. I just want to thank her for everything she has done for me and jasper. You have a great person working for you and I really wanted to let her know I appreciate all she is doing for me.
Yours sincerely
Tina   (Varsity lakes)
Dear Sir/Madam
I am writing to sing the praises of two of your operators in the Southern Highlands area of NSW, Kevin and Eriko.  My husband and I have a 3 year old male chocolate Labrador called Monte who we have been getting washed by Aussie Pooch for some time.  During his regular monthly wash in December, Eriko picked up that the glands under his jaw seemed to be very enlarged.  As we were not home during their visit, Kevin called me that night to advise that he thought I should have Monte checked by our vet.
A visit to the vet the next day and subsequent testing resulted in the very serious diagnosis of canine lymphoma which if left untreated could have resulted in the death of our much-loved pet within 8 weeks.  If it wasn't for Eriko's detection of this problem, we would have been completely unaware that our dog was sick as we had not noticed the swelling at all and the dog was not displaying any symptoms of illness.
Although lymphoma is not curable, we have started Monte on chemotherapy and he has already gone into remission and his vet (and his owners) are very happy with his progress.  I have spoken to Kevin to pass on my appreciation but thought their dedication and professionalism was worthy of an email to Aussie Pooch as their franchisor.  We will forever be grateful that their warning has given us the opportunity to extend our pets life and the enjoyment he brings to us. Please pass on my congratulations to these members of your team.
Best Regards
Simone Moolhuvzen