What are the benefits of investing in a successful Aussie Pooch Mobile dog wash franchise business?
Imagine being rewarded for your passion for pets while enjoying the benefits of running your own business. Aussie Pooch Mobile offers a franchise system that allows you to tap into the thriving pet industry with ease.
Here's what sets us apart:
Low Entry Costs:
We understand that starting a business can be daunting, which is why we've designed our franchise model with affordability in mind. With low entry costs, you can embark on your entrepreneurial journey without breaking the bank.
Minimum Overheads:
Say goodbye to excessive overhead expenses! Our streamlined systems and efficient operations ensure that you can focus on providing top-notch service without unnecessary financial burdens.
Industry Leader Recognition:
By joining Aussie Pooch Mobile, you become part of an esteemed industry leader known for its dedication to pet care excellence. Leverage our reputable brand name and established customer base to build trust and credibility within your exclusive territory.
Proven Systems:
Why reinvent the wheel when we have already perfected it? Benefit from our proven franchise systems, comprehensive training programs, and ongoing support as you navigate your way through this exciting venture.
Claim Your Exclusive Territory:
Don't miss out on securing your slice of this billion-dollar industry!
With an exclusive territory, you'll have the opportunity to serve and connect with pet owners in your area, establishing long-lasting relationships with both two-legged and four-legged clients.
Unleash your potential, make a positive impact in the lives of pets and their owners, and embark on a rewarding journey that combines passion, purpose, and profitability.
Join the thriving Australian Pet Industry!
Prepare to be amazed by the astonishing growth and potential of the pet industry in Australia. With a staggering $33 BILLION spent annually, it's clear that pets hold a special place in the hearts and wallets of Australians. According to the Pets in Australia Survey 2022 conducted by Animal Medicines Australia, dog grooming alone accounts for a jaw-dropping $196 million of this expenditure.
Did you know that nearly half of Australian households (48%) are proud dog owners? This statistic showcases the immense demand for pet services, making it an opportune time to become a part of this booming industry.
A winning formula for success.
Strong Brand Awareness
With 30+ years experience as the market leader in the Pet Care Industry, Aussie Pooch Mobile has built a brand second to none. The power of our well-known brand attracts thousands of pooch loving customers each month.
Award Winning System
Aussie Pooch Mobile is an award-winning franchise network led by Paul Walters, our Managing Director, who ranked 6th among the Top 30 Franchise Executives in 2023. 
The system has also been rated Five Stars by the prestigious Australian Franchise Rating Scale in 2023 & 2022. This independent assessment conducted by FRANdata confirms our commitment to maintaining high standards and delivering exceptional support, products and services.
Not only that, but our franchise network has also made waves in the TopFranchise Awards in 2023. It secured second position in innovation and third in both brand & support categories. These accolades reflect the network's dedication to excellence, innovation and success.
Behind every successful franchise system is a team of exceptional individuals.
In 2021 the Franchise Council of Australia awarded these extraordinary Franchisee's who have played an integral role in our success.
Elizabeth Keeley, crowned as the Multi-Unit Franchisee of the Year winner in Queensland (2021) showcased exceptional leadership skills. 
Laura Edmonds-Armitage, who was recognized as the Single-Unit Franchisee of the Year - less than 2 staff NSW/ACT (2021) for her outstanding dedication and achievements.
Emily Slevin, Field Manager of the Year for Western Australia (2021) for her significant contributions to the ongoing success of her team and the overall growth of our network's. 

Exclusive Territories
Aussie Pooch Mobiles provides you with an exclusive large territory. Some of the advantages of having an exclusive territory are… short travel time between each customer that saves you time and money, all the self-promotion and marketing done in your territory benefits you, and your customers will appreciate knowing the person who cares for their pooch.
Lifelong Skill Development & Support Program
Traineeship: The initial two weeks comprehensive training will see you trained in the hands-on operation of the business, dog handling skills, local area marketing, time management, customer service, product knowledge, money management, goal setting and retail sales.
We understand that this can be new to you. That is why our training is not just a two-week period, but it is ongoing. On top of being trained in all aspects of your mobile dog wash franchise, you will be provided with a support person every step of the way.
Local Support Network: Regular catch-ups with your support manager and other local Aussie Pooch Mobile business owners provide great opportunities to tap into the wealth of knowledge and experience within our franchise network. Discover innovative approaches, best practices, and insider tips that can help propel your business to new heights. 
We believe that every franchisee's input is invaluable in fostering the continued growth of Aussie Pooch Mobile. Your unique perspective and creative ideas can bring about positive change for the entire team. Sharing of ideas and experiences is welcomed.
WOOF eDiary: Aussie Pooch Mobile's custom made booking software, exclusive to Aussie Pooch Mobile, makes your job even easier. Customer leads will feed directly, repeat customer bookings auto populate so you never forget a service and the many reporting functions help you keep track of your successes.
WOOF Ecommerce: A convenient online store fully stocked with all the equipment, consumables and solutions required at a special discounted rate. 
Operator Exclusive Intranet: Your intranet (APM secure website) is an online resource where you will find everything you need to operate your business. 
Website: The Aussie Pooch Mobile website is highly ranked by search engines and provides your customers with your direct contact details as well as a convenient online booking form. The website is an invaluable branding tool for marketing your business.
Operator Facebook Forum: Support and advise from your peers available 24/7 through your own Aussie Pooch Mobile Operators Facebook Forum.
Monthly Newsletters: Newsletters are designed to keep you up to date with what's happening at Aussie Pooch Mobile. Franchisee input into the newsletter is encouraged.
Seminars/Conferences: Training seminars are aimed to encourage team interaction and provide ongoing training and support. 
Our annual conference is the highlight of the year and is a fun packed educational event. Team members from all over the country come together to network and learn from each other. Guest Speakers at the seminars and conference, such industry specialists and business coaches provide you with invaluable knowledge. Our awards night recognises outstanding franchisees, and celebrating your success as a whole.
Repeat Business
Every one knows that repeat business is good business and word of mouth advertising is absolutely the best form of advertising. Aussie Pooch Mobile services are used on a fortnightly and monthly basis by a large percentage of your customers.
Dealing with the same regular customers each fortnight/month allows you the opportunity to build a relationship. This will encourage referrals from customers and ensure word of mouth advertising that will help grow your mobile dog wash franchise.
* Customers enjoy the convenience of your service and the dogs love it.
Fully Equipped Mobile Hydrobath Unit
As part of the equipment supplied with our dog wash franchise business, you receive the all weather Mobile Hydrobath unit. You simply need to supply the vehicle to tow it. Read more...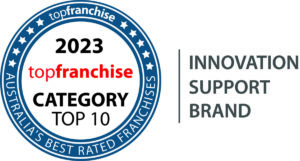 Do you have what it takes to be a great Aussie Pooch Mobile Franchisee?
Dog Lover

Passionate about operating your own business

Share our company values

Active outdoors person

Great people and communication skills

Goal orientated, enthusiastic and motivated

Enjoy helping others and working as part of a team
If you believe you have what it takes to be a great Aussie Pooch Mobile Franchisee and would like to take the next step towards a better lifestyle then please complete the online enquiry form.