The Aussie Pooch Mobile philosophy of 'We Care' not only relates to cleaning and caring for dogs, it is strongly tied to caring and helping the community.  Aussie Pooch Mobile operators throw themselves relentlessly into many events to help raise money for charity.
Aussie Pooch Mobile groomers and staff supporting Mental Health
Anxiety, depression and suicide can affect any of us at any time and a huge 45% of Australians will experience a mental health issue at some point in their life.
Our Aussie Pooch Mobile groomers and support staff joined forces during the month of July to spread awareness for this much needed cause by taking part in the Push-Up Challenge.
About the Push Up Challenge
Each day, the target number of push-ups to complete reflected a different statistic to do with mental health in Australia. Over the course of 21-days our Aussie Pooch Mobile groomers and support staff were challenged to complete 3,128 push-ups in total, representing the number of lives lost in Australia due to mental health issues in 2017. We are proud to announce that 19 Dog Lovers from our company jumped on board, completed the target number of push-ups and raised $2385.00. Most importantly though we helped raise awareness for mental health, #pushforbetter. A huge shout out to all the friends, family and customers who helped us along the way.
According to the Push-Up Challenge Facebook page a whopping $2.3m was raised during the campaign for @headspace_aus and over 50 million push-ups were completed (an average of 2 per Australian). Just amazing.
Did you know that owning a pet can help with mental health?
As we all know, pets bring so much joy and happiness into our lives. Pets and dogs in particular provide companionship and unconditional love. But did you know that the bond shared between you and your pet does a lot for your mental health? Your pet won't judge you and keeps you company. They encourage you to exercise more which keeps you fit and healthy. Pets can also remind us to take better care of ourselves. So we think it is very fair to say that our pets can care and support us in a lot of unspoken ways. 
If this has raised concerns for you or anyone you know please don't hesitate to contact Lifeline on 13 11 14 for help or information.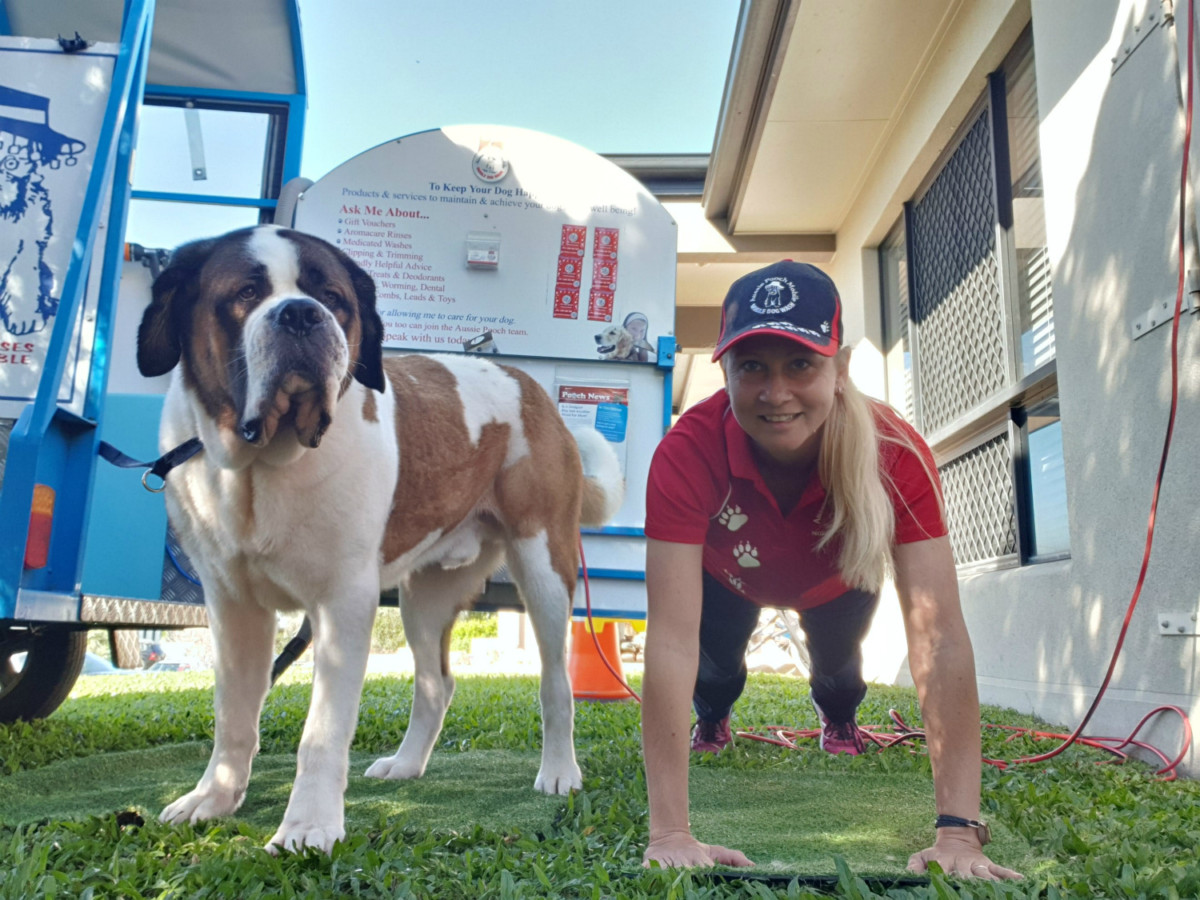 A popular event is the Aussie Pooch Mobile Dog Wash Bath-a-thon. A team of operators get together and raise much needed funds for local charities, schools or clubs. People are encouraged to bring their pooch along to be washed and the proceeds are donated to the event holders.
With a long-standing affiliation with the RSPCA, Aussie Pooch Mobile operators in most states participate in the RSPCA Million Paws Walk, where a major dog bath-a-thon is also held. Aussie Pooch Mobile also provides adopted dogs with an initial discounted service to help their new owners establish good canine cleanliness and are actively involved in helping care for abused and rescued dogs.
Aussie Pooch Mobile offer a 25% discount to all registered Service Dogs for our Classic Hydrobath Service. This discount is for any registered Service Dog in Australia such as Guide, Hearing & Assistance Dogs, limit to one bath per month.
Aussie Pooch Mobile are involved with the Animal Welfare League, Lions Hearing Dogs, Assistance Dogs and Breast Cancer Awareness and Variety the Children's Charity.