Caitlin's story…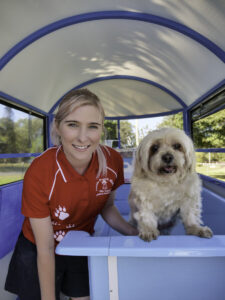 Caitlin's work life before joining Aussie Pooch Mobile always involved dogs. She was studying to become a groomer and was a groomer's assistant. Caitlin found that job to be quite full on and found herself becoming quite tense during most of her working days. That is when she decided to look around for another option that still involved working with dogs.
'My life has changed so much since becoming a franchise owner with Aussie Pooch. I now have two trailers running and have a representative working for me. It has taken me out of my comfort zone, allowed me to grow and now I realise how much more I can actually do. I am very proud of myself!'.
Caitlin actually began her Aussie Pooch Mobile journey as a representative working in her local area.
This allowed her to trial her new career with us before taking the leap, as most do, to become a part of our franchise family. Caitlin knew she already loved her new career, our business, and of course, your pooches, so she decided to take the plunge and grow further within our business.
Caitlin said if she had to sum up Aussie Pooch Mobile, she thinks of the support, the dogs and the flexibility. She loves that it is a family owned business and you can talk to Paul and Megan (the owners), as well as the caring support team in the office when you have any queries or concerns.
If you are a dog lover at heart like Caitlin, it may be time for you too to join our caring team! It really does come with a lot of benefits and if you love dogs, have a car with a tow bar and motivation to succeed, we would love to hear from you!
1300 369 369 / Visit our website / Shop / Facebook / Instagram / Join our pack / Youtube