Do what you love and love what you do!
A franchise study shows that the average tenure that franchisees stay within a franchise network is 7 years. Here at Aussie Pooch Mobile Dog Wash, 48% of our franchisees have been with us for over 7 years and we have 12 franchisees that are still with us for over 20 years now. When you get to work with dogs all day and make a good income from it, why would you want to change careers?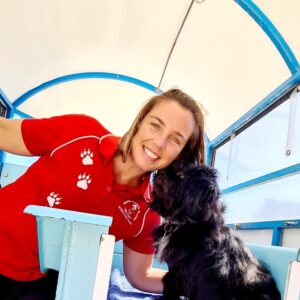 We have many franchise owners who have expanded their operations to include multiple trailers and representatives in their business to help with the demand and run very successful franchise businesses.
They're able to do this because we have mentors and support people on hand and the proven, step-by-step systems to grow a successful business from day 1.
Listen to Emily Slevin's story  
Emily joined the Aussie Pooch Mobile Dog Wash community in 2010 and loves what she does and has never looked back. Emily is now a Master Franchisee and mentors and supports an entire team.
If you want to love your career, now is the time to make the change. Don't wait any longer. So many of our franchisees say they wish they had done it sooner. Get in touch with us today to organise an on road experience with one of our experienced franchisees for a couple of hours (or more if you are loving it!) to see if this is the business for you.
1300 369 369 / Visit our website / Shop / Facebook / Instagram / Join our pack / Youtube