Chris Taylor (Aussie Pooch Mobile Founder) says, "It's well known that it is essential to socialise puppies to as many things as possible at a young age. Dog washing and grooming is something that dogs will experience throughout their lives. Socialising puppies to baths from an early age will help ensure they grow up to be healthy and happy."

Wash away doggy bath time blues with free dog wash vouchers.
Forget the garden hose, wet towels and a dog shaking all over you. New puppy owners are now being provided with a 2 for 1 discount puppy voucher to have their puppy washed by Aussie Pooch Mobile Dog Wash Franchisees, and best of all it's at the convenience of their own home.
The socialisation procedure for puppies include a warm fresh water hydrobath using environmentally friendly solutions. Brushing, nail clipping, ear and eye cleaning, blow dry, deodorise and a puppy treat all included. The hydrobath is performed in Aussie Pooch Mobile Dog Wash trailer by caring experienced franchisees.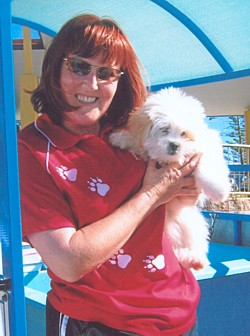 Aussie Pooch is happy to provide you with a 2 for 1 service for your puppy, conditions apply. Simply click on the voucher and print out a copy. Contact your local Aussie Pooch Mobile operator by phoning 1300 369 369 or visit the Dog Wash Booking page to find their direct contact details. Be sure to advise your Aussie Pooch operator of the voucher when booking.
With Aussie Pooch there will definitely be no doggy bath time blues.
Conditions: Puppies under 6 months, second service free within 1 month of first service. Participating areas only so advise your operator at the time of booking. Print out the 2 for 1 voucher and give it your operator at bath time.
Puppy Preschools are an important tool for socialising & encouraging good behaviour earlier on in your pups life. These are normally run by your local Dog Obedience Trainer or Vet.
Franchise Opportunities: If you think you would like to spend your days pampering pooches then visit our Mobile Dog Wash Franchise pages to find out more info.