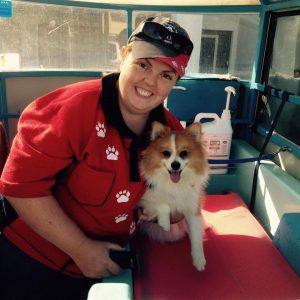 Jacqui started with Aussie Pooch Mobile in March 2012 and was very pleased and excited to win Rep of the year at this year's annual conference.
Hobbies
She enjoys being a Jamberry Nails consultant in her spare time and also raises money for 'Denise at Paws' dog rescue.
Tips
Tips for other operators are to consistently reward the behaviour you like in dogs and that behaviour will increase.
Jacqui is a certified dog trainer, who enjoys patting every dog she sees. Jacqui plans to work with dogs until the day she dies!
Contact Aussie Pooch Dog Wash for all your pooch needs.
1300 369 369 / Visit our website / Follow us on Facebook