We think that an Aussie Pooch Mobile dog wash business could very well could be the best choice when it comes to working with animals and most importantly, age doesn't matter! In fact, our youngest franchisee is just 20 years of age and our oldest is 75! Furthermore most of our very successful franchisees come into our business after their traditional careers and don't look back!
Here's proof you CAN teach an old dog new tricks!
Carol Garratty is just one of our 70 yr old, fun loving, superstar dog groomers!
Before starting with Aussie Pooch Mobile Dog Wash, Carol worked all her life in an office. At 61, she was faced with a dilemma. Carol did not want to work in admin any longer, but had no idea what she could do differently.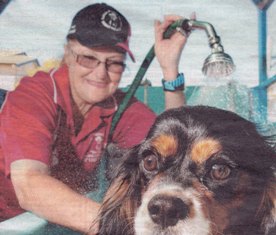 After some soul searching she came across Aussie Pooch Mobile Dog Wash and as she had always loved dogs, and often dreamt about working with animals, she decided to give it a go!
Carol is still a respected franchisee in the Aussie Pooch Mobile team and is now is a fun, loving, active 70 year old!
"It was scary at first as it was completely different. But the support I received was terrific. I loved the job from the minute I started. Not only am I financially independent now and my own boss, working with animals gives me such a boost!"
Carol is a superstar in the Aussie Pooch Mobile family and was even featured on 60 Minutes.
Would you love a career working with animals?
Aussie Pooch Mobile offer just that plus more…
Lifestyle career

Play and care for dogs all day

Work your own hours

Be your own boss

Weather proof trailers

Great views outside of an office

All training is provided

Support network second to none

Create new dog loving friends
Join Our Family
If you have often dreamed of working with animals and would like to join in the success of Aussie Pooch Mobile then contact Mark Welham on 0411 553 796 or Opportunities@aussiepm.com.au or visit www.aussiepoochmobile.com.au.
We look forward to hearing from you!
1300 369 369 / Visit our website / Follow us on Facebook / Join our Pack