Ask any of our franchisees and they will all tell you that the Aussie Pooch Mobile dog wash franchise feels like one big family. We are all here to support and help each other and are just a phone call away if needed.
Even though we are a big family, we actually have many operators in our system that are actual families!
Meet some of our families below. Many of these franchisees started out as one but their partner/child saw how great it was that they ended up joining the team as well.
Joanne Goodwin (SA) started in 2011 then was followed by her daughter Jess, then her husband Mark, family friend Julia, their daughter Beck and then their son Dave!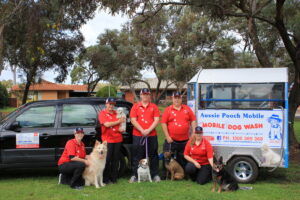 Genny McGuiness (NSW) joined the APM family in 2002 and 18 months later, after seeing how much Genny loved it and how profitable it was, Grant joined her.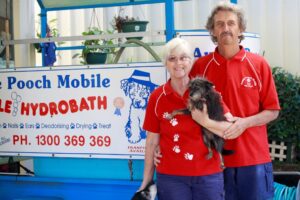 We have some other family teams throughout Australia with Greg and Julie Fickel along with their kids Shyne, Laura, Dean and Ayden, the Ford family in NSW – Tim, Donna, Naomi and Kiley. Wendy and Robert Gaunt with their son Jamie, mother daughter team Kim and Abbey (NSW).
We also have a heap of partner teams with Karen and Mick Richardson, Karen and Steve Reynolds, Ayla and Daniel, and Samara and Gareth all from QLD. In NSW there is Andrew and Rebecca Raso, Bryan and Kate Edwards and Kerry and Jane Walker. Emily and Damian Slevin and John and Dene Gray from WA. In SA with have Julia and Nick, Jessica and Matt, Cat and Dan and Danni and Trent.
As you can see, it really is a family fun franchise business!
Contact us today to find out how you can join our family!
1300 369 369 / Visit our website / Facebook / Instagram / Join our pack