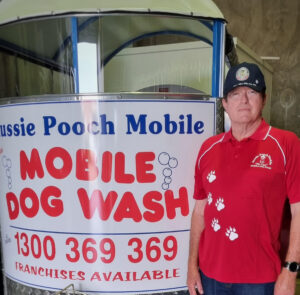 Meet Peter. Peter has been with Aussie Pooch Mobile Dog Wash since April 1996 servicing the Burpengary and surrounding area in Qld and is our longest serving franchisee still with the company. 
Before joining the Aussie Pooch Mobile family, Peter had his dog washed with the company to test it out and see if this is the path he wanted to take. He always knew he wanted to work with animals and dog washing seemed like the perfect thing to try. Needless to say, Peter loved it and has been a franchisee ever since!
"I have been washing dogs for over 25 years now and I wouldn't change a thing. I love the animals and the flexibility. I have managed to work around my kids when I first started, to now working around the grandkids, being able to take them to sport and drop them off at school. 
Things have certainly changed over the years. I have seen numerous trailer developments throughout my time, also before we had mobile phones, having to stop at pay phones on the side of the road to return a pager message from a customer enquiring to have their dog washed. 
I remember the first dog I washed paid only $9, which was paid in cash, not card. A lot of things have changed, but my love of dogs and how much I enjoy my career has never changed. It was definitely the best choice I made" says Peter Statham.
Love animals like Peter? 
Why not see if this is the career for you. We have no obligation discovery days where you can come out on the road with one of our local experienced franchisees and you can really see what it's all about. If you don't love the experience, at least you get to meet some gorgeous puppies we get to wash. If you do love it though, it could just change your life.
So don't hesitate. Have a chat to Mark – our Support and Recruitment Manager (who has also been with us since 1993!) – and organise a discovery day.
Mark Welham – 0411 553 796 – opportunity@aussiepm.com.au
1300 369 369 / Visit our website / Facebook / Instagram / Join our pack / Youtube