Meet Genny McGuinness – Genny from Greystanes NSW is celebrating a huge milestone with Aussie Pooch Mobile Dog Wash this year – 20 year career in the business!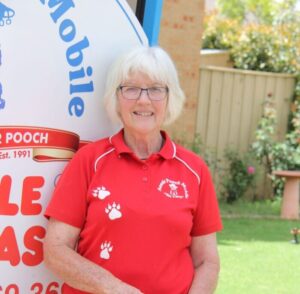 Genny started with us when she was just 50 years young and is an absolute treasure to the company.
Genny says, "When I turned 50, I saw an ad 'do you want to work with dogs' in the local paper. I made the fateful phone call and spoke to Mark Welham (who is still my mentor and support manager!) and thus the journey began. I had finally found what I wanted to do when I grew up!
"When my husband Grant left the Army, he saw what fun I was having and became my representative and joined the business with me. Grant is now also coming up on 20 years in 2023.
"Today I have 3 trailers being worked by Grant, Steph (another Representative) and I.
"In my 20 years with Aussie Pooch Mobile Dog Wash, I have made many friends (within APM and customers), made mistakes (mostly learnt from them), laughed and cried lots. Owning and running a small business has been the best decision of my life and i'm glad I finally found what I wanted to do when I grew up.
"Running my own small business and working within a franchise system has been amazing. You not only have the support of the support team, but also your neighbouring operators. I have made and received many calls "Aarrgghh, do you have a spare Herbal Shampoo? Do you have any Pooch Cookies etc". We all help each other out and that's the beauty of it.
Thanks to Aussie Pooch Mobile and the support of Grant, I have had the opportunity to run a successful business and still enjoy doing it."
Genny is among 12 others within Aussie Pooch Mobile who have been with the company for 20 plus years this year and have been through economic ups and downs, changes within the industry and improvements within the system and are still loving what they do and continue to run a successful business. If you still are unsure about what you want to do 'when you grow up', then an Aussie Pooch business might just be what you are looking for.
Contact us today to see how you can be part of the Aussie Pooch Mobile family and go out on road with one of our experience franchisees to see what its all about.
1300 369 369 / Visit our website / Shop / Facebook / Instagram / Join our pack / Youtube