Meet Jim Cracknell – Jim from Mildura Vic is celebrating a huge milestone with Aussie Pooch Mobile Dog Wash this year – 20 years in the franchise business!
Even before starting his journey with Aussie Pooch Mobile all those years ago, Jim had been involved with dogs, from working on stations and breeding dogs, and knew it was something he would always do.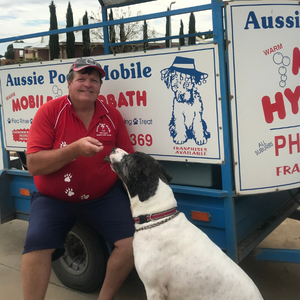 Jim says, "I didn't succeed in business before Aussie Pooch, but I followed the plan and the system and it worked. If it worked for me, it will work for anyone. I now have a successful business and have done for 20 years. The whole Aussie Pooch experience is the best thing I have ever gotten into and I wish I had done it 10 years sooner.
"I enjoy the work, the business and of course, the dogs. Aussie Pooch is one big family and I really feel a part of it. I have had a fantastic life because of Aussie Pooch Mobile. Some highlights have been being able to travel around Australia on a motorbike, go to far North Qld for fishing trips and snowmobiling in Colorado, USA with the friends and family I have made in this business.
"My furry customers are the best part of my day. They know they are all my favourites and that I will give them extra treats if they ask. They look at me always knowing there is more. How can you say no!
"Thanks to Aussie Pooch Mobile and the support the system brings, I have had the opportunity to have a successful business and I still love doing it."
Jim is among 12 others within Aussie Pooch Mobile who have been with the company for 20 plus years this year and have seen many successes. If you want to be a part of a family and run your own successful business, then an Aussie Pooch business might just be what you are looking for.
Contact us today to see how you can be part of the Aussie Pooch Mobile family and go out on road with one of our experience franchisees to see what its all about.
1300 369 369 / Visit our website / Shop / Facebook / Instagram / Join our pack / Youtube