On Friday 5th of May, the Top 30 Franchise Executives for 2023 were revealed… and for the second year in a row, our own Managing Director – Paul Walters – was amongst them, being awarded 6th place!
The event celebrates the outstanding contribution of high-performing franchisors who have provided inspiration, innovation and support for their franchisees; and Paul has certainly done this.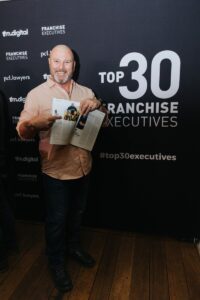 During 2022, Paul travelled nearly 20,000 km around Australia reconnecting with Aussie Pooch Mobile team members, which was vital to getting the team back on track after the last few years of constant change, uncertainty and burnout due to COVID.
Paul says, "For 2023 we are going back to basics and focusing on our 'why'. I have focused on supporting the franchisees in different ways to help them. This includes mentoring between franchisees, the introduction of an online training platform, group training and a learning hub.
Strengthening the bonds between franchisees is important to me. One measure designed to do this is the first, in person, national conference we have had in 3 years, in September. This will help our team reignite their flame and bring passion back into their businesses. I look forward to the year ahead."
Congratulations Paul and Aussie Pooch Mobile on your Top 30 Franchise Executive award!! It is a well deserved.
.
1300 369 369 / Visit our website / Shop / Facebook / Instagram / Join our pack / Youtube