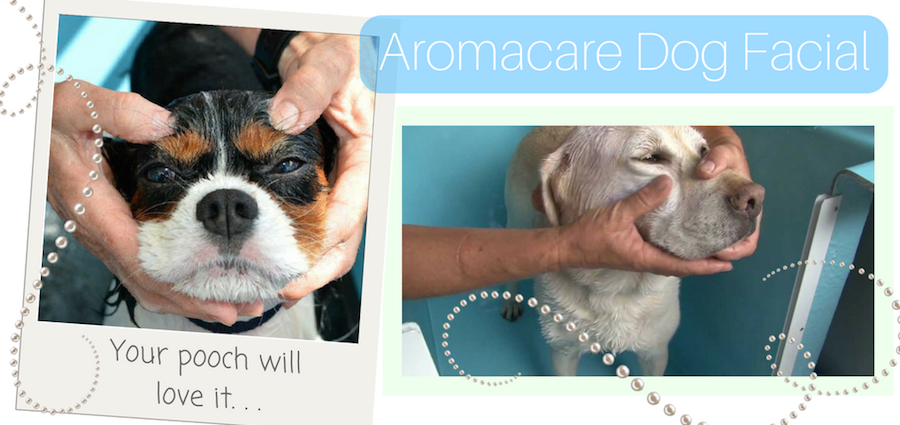 The Aromacare Dog Facial (including head massage) cleanses, exfoliates and nourishes your dog's skin, therefore ensuring that they look and feel great. Furthermore during the facial your dog's face and head is thoroughly cleaned to target slobber, gunk and tear stains. It is especially relevant that like any therapist, all of our Aussie Pooch Mobile dog groomers have been trained in administering the Aromacare Dog Facial.
Our video on the Aromacare Dog Facial can be viewed here.
About The Aromacare Dog Facial Cleanser
Aussie Pooch Mobile Australian made
All natural cleanser
Purple & lightly foaming
Fragranced
Helps with mild facial irritations
The Aromacare Dog Facial Cleanser contains optical brighteners and is infused with
Vitamin E, Lavender, Chamomile and pure essential oils that will have your fur baby feeling and smelling great!
Aromacare Dog Facial Procedure
Special steps are taken to ensure the dog enjoys the experience throughout the facial.
Your dog's body may even be covered in a microfibre wrap, as a result of this they will be kept warm and it also enhances relaxation.
At Aussie Pooch Mobile Dog Wash, attention is always paid to your dog's needs. Like any first-time experiences your dog may be unsure of what is happening. However with time, perseverance and a kind, gentle touch from your local Aussie Pooch Mobile dog groomer, your dog will come to absolutely love the experience. It is also most noteworthy that when your dog is used to your Aussie Pooch Mobile dog groomer and trusts them, you may find that they will deeply relax and may even fall asleep during the dog facial.
Your dog's face and head is cleansed with focus on removing any stains. Then comes the cleaning of the nose and ears, followed by a massage to these areas using special massage techniques, including acupressure. Your local dog groomer will always adjust the massage according to the dog's mood.
Your dog will be grounded when the session has finished. Like with us, the massage will take your dog into its own world so bringing it back slowly is important.
The Aromacare Dog Facial usually lasts between 3- 5 minutes.
Aussie Pooch Mobile Pioneers Of The Pooch Pampering Industry
Aussie Pooch Mobile dog wash and care has done it again! We were the first company in Australia to introduce the Dog Facial service in 2012! Since then we have found that dog lovers are wanting not only to spoil their dogs, but also want the health and well being benefits the service offer. Because of this the Aromacare Dog Facial is a great additional service to add onto your dog's classic hydrobath service.
"We researched the facial with the help of a beautician, a dog masseuse and customer feedback from our initial testing which provided us the platform to launch this unique service."
"People have been enjoying the health and relaxation benefits of face and body massage for centuries," explains Aussie Pooch Mobile dog wash and care founder, Christine Taylor, "so we thought why can't dogs enjoy those benefits too."
The Aromacare Dog Facial only enhances our "We Care" philosophy
To find out if your local Aussie Pooch Mobile dog groomer provides this additional service make contact with us below.