And the winner of the April Dog Photo Competition is….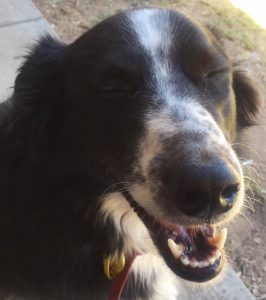 Jane and her cute Border Collie, Sally!
"This is Sally and she just loves her Auntie Jo from Aussie Pooch and her regular baths!"
Thank you for your kind words Jane and congratulations to you and your fur baby for winning our April dog photo competition. As a result you and Sally have won a $50 doggie hamper filled with treats, toys and gifts!
Please PM us with your postal address HERE. 
How do I enter?
If you would like to have the chance to win a Doggie Hamper next month for your best friend all you have to do is post a photo of your pooch to our wall HERE and tell us why you love Aussie Pooch Mobile. It's that easy!
How often can I enter?
As many times as you like!! First of all Aussie Pooch Mobile absolutely loves seeing your fur babies. Because of this our photo competition is run every month and drawn at the start of the following month. In conclusion the winner will be announced on our National Facebook page and on our blog so keep an eye out for you and your dog's names! Good Luck!
All about Aussie pooch Mobile
Aussie Pooch Mobile Dog Wash is Australia's 1st and Premier Dog Wash Company established in 1991. Aussie Pooch Mobile have dog grooming operators all through Australia. Your local dog groomer will wash and groom your dog at the convenience of your own home. But most of all will treat your fur baby like their own! Therefore, they will receive the love and care that they deserve! Furthermore Aussie Pooch Mobile dog wash also provide Additional Services for your best friend.
To make a booking or to find out more about your local dog groomer click HERE.
Franchise opportunities are also available.

Aussie Pooch Mobile