Did you know that your local groomer can also supply affordable, quality pet products for your dog?!
Would you like to spoil your pooch with fun toys or pooch cookies? Or maybe your dog has a skin condition that needs some extra care in between his baths. What ever the case may be your Aussie Pooch Mobile local groomer can provide pet products directly to your doorstep at your regular wash & grooming appointment. See what pet products we have available to further benefit you and your furry friend below.
Flea & Tick Medications
Your local groomer has a range of different flea and tick medications available depending on your pets size and needs. It is important to protect your pet all year round as fleas and ticks can cause all sorts of grief to your dog and the Paralysis tick can even be deadly! Remember that prevention is always better then a cure.
Your local groomer can recommend and supply flea and tick medication best suited to your pooch, keeping them safe all year round.
Worming Medications
Worming medication is also available direct from your local groomer. There are a number of different worms that can affect your dog; round worms, tape worms, hook worms, whip worms and heart worms. Not only can a worm infestation in a dog cause loss of appetite, diarrhoea and in severe cases even death, worms can also be passed onto human family members. Make sure your pooch is protected and talk to your Aussie Pooch Mobile local groomer today.
Vets All Natural
Vets All Natural have a range of pet products made from fully natural ingredients catering for different areas of pet health. These include skin allergy control, joint problems, healthy teeth, reducing obesity and reducing the number of visits to the vet. Ask your local groomer about these products when you make your next appointment.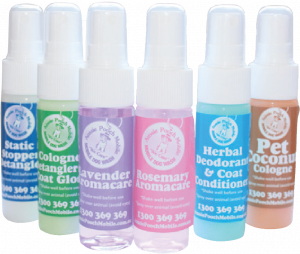 Pooch Perfumes
Does your furry friend like to swim in dams or run around in the rain and mud? Do you find that sometimes they can become smelly in between their baths? If so, these mini sprays will be the perfect pet products for you and your pooch! There are 6 different mini pooch perfumes to choose from that come in 35 ml bottles. They are easy to spray directly onto your pooch in between their regular baths so your fur baby will stay smelling and feeling great!
The scents to choose from are Lavender, Rosemary, Coconut Cologne, Herbal Deodorant, Cologne Detangler, and Static Stopper.
Aromacares
More then just a beautiful scent, the Aussie Pooch Mobile Aromacares are our most popular pooch perfumes. These spray-on pooch perfumes comes in 2 different scents to choose from, Lavender and Rosemary and are available in 250ml bottles. Lavender is said to be calming and has a relaxing scent while Rosemary may uplift you and your dog's spirits. Much like the mini sprays these are easy to spray directly onto your pooch in between their regular baths and will keep your fur baby smelling and feeling great!
Pine Oil Insecticidal Spray
All different kinds of pet products are available with your local groomer including the Pine Oil Insecticidal Spray. This spray on solution comes in a 35ml bottle and helps to control fleas, lice and brown ticks. It is also amazing at controlling flies on dogs.
Grooming Equipment
Aussie Pooch Mobile have a wide variety of pet products one of which includes our grooming equipment. We have available to purchase: slicker brushes, coat kings, undercoat rakes and grooming scissors plus many more. Ask your local groomer more about our grooming equipment today.
Toys and Treats
Toys and treats are essential pet products for your dog's long term health. Treats can come in handy for training your pooch or helping to clean your pups teeth. Toys are great fun for your pooch and also help to stimulate their mind. Combine the two with a treat ball and you have hours of entertainment for your pooch. Ask your Aussie Pooch Mobile local groomer what toys and treats they have available for your furry friend at their next bath.
Chicken Dental Chews
These chews help to prevent nasty oral diseases such as periodontal disease, gum disease and classic cases of doggy breath! Furthermore they are made with Australian chicken that you dog will love!
Pooch Cookies
These Australian made, 100% healthy, natural treats for your pooch are perfect for rewards and training.
Our Pooch Cookies come in a 900g bag with approximately 85 cookies per bag. Pooch Cookies are made with real liver that even the fussiest of dog's go crazy for! Read more about our Pooch Cookies here…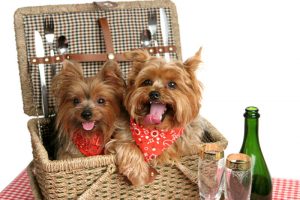 Pooch Presents
Did you know that 70% of dog owners buy presents for their pooch? Purchase a gift for your dog's special occasion to make your dog's day. Doggy Hampers can also be ordered for your local school or charity groups. Ask your local groomer for other great gift ideas.
Gift Vouchers
Give your pooch-loving friends an Aussie Pooch Mobile Gift Voucher so they can also have their special pooch cleaned, flea-free and smelling great! A range of gift vouchers are available to suit any budget.
To find out what pet products your local Aussie Pooch Mobile dog groomer provides make contact with us below.