Taking your dog away with you on your travels this holidays? Make sure you are prepared as happy dogs get dirty in the great outdoors and while travelling.
Now you can quickly clean them with our amazing environmentally friendly solutions while you are away from home on holidays with our new travel packs.
With 5 different packs available, there will surely be one that will suit your dog's coat and needs!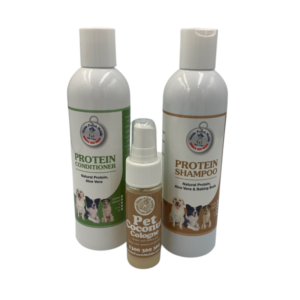 Protein Shampoo pack – Great for dogs with sensitive skin and ideal for long coat breeds. Read more…
Herbal Shampoo pack – This pack is ideal for dogs that just love adventures in the great outdoors. Read more…
White Shampoo pack – The White Shampoo Travel Pack is perfect if you're looking for a fresh long lasting scent for your dog. Read more…
Pink Shampoo pack –  This pack is the perfect solution to keeping your pet looking great while holidaying with you. Read more…
Luxury Whitening Shampoo pack – The Luxury Whitening Shampoo Travel Pack is specifically formulated for white coat breeds with advanced whitening and stain removal. Read more…
Our packs contain travel sized solutions of our most loved products to give your dog a refresh when you are on the run. Great to use when you are travelling or to have in the car after a beach day. The travel packs are also a great option if you want to gift to someone or if you just want to try our products.
Check out our different packs available now!
1300 369 369 / Visit our website / Shop / Facebook / Instagram / Join our pack / Youtube