Since Aussie Pooch Mobile Dog Wash started way back in 1991, our franchisees have always come from a broad range of professional backgrounds before joining our team. Where did they come from? Below are just some examples of their previous careers.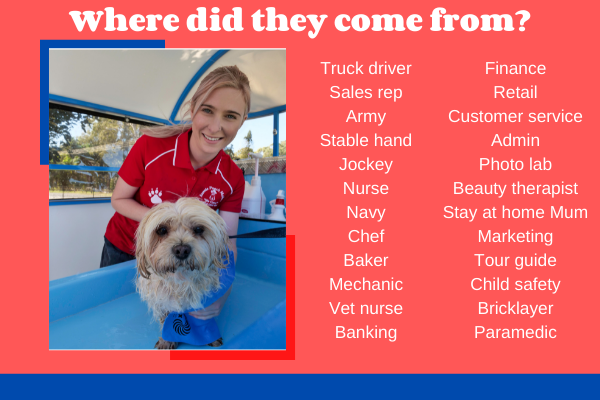 What they all had in common was a love of dogs and a desire to be their own boss doing something they loved. Once they took the leap and joined our dog washing family, they never looked back. Many saying they wish they had done it sooner!
When you join the Aussie Pooch Mobile family, you will be trained in the hands-on operation of the business, so no experience is necessary. In addition to the initial training, you will also receive Cert III training in Entrepreneurship and New Business to ensure you gain the knowledge and skills to help you succeed throughout your Aussie Pooch Mobile journey. Best of all, you have a support system that is second to none, along with you every step of the way.
Instead of dragging your feet going back to your everyday job, take the leap towards doing something you will LOVE and contact us today to find out how you can go out on road on a Discovery Day with one of our senior franchisees and see what it's all about.
1300 369 369 / Visit our website / Shop / Facebook / Instagram / Join our pack / Youtube