Best Curly Coat and Oodle Dog Shampoo
Owning a curly coated dog or an Oodle breed normally means less shedding and so much cuteness!!
Typically a moderately easy coat to care for, we do recommend regularly brushing & bathing to remove any build up of dirt and debris to keep those pesky knots and tangles to a minimum.
This is why your local Aussie Pooch Mobile dog groomer now uses the specially formulated 'Curly Coat and Oodle Shampoo', for bouncier, healthier, shinier curls and best of all... It has the most amazing vanilla scent!
How Aussie Pooch Mobile can help your curly haired dog!
Our groomers can wash and groom your dog using our Curly Coat and Oodle Shampoo that has been specifically formulated for curly haired and Oodle dog breeds. Our Curly Coat and Oodle Shampoo helps retain curl and texture of your dogs coat while adding volume. The shampoo also makes drying the coat faster and easier to handle.
Best of all it contains Vitamin E for hydrating the coat and skin and leaves a wonderful lasting Vanilla fragrance.
The Curly Coat and Oodle Shampoo is 100% dog safe.
Naturally based
Soap Free
pH Balanced
Free of phosphates, parabens and enzymes
Bio-degradable
Environmentally responsible
Not tested on animals
During every Aussie Pooch Mobile dog wash and groom, your dog will be brushed, hydrobathed in warm water, nails clipped, ears and eyes cleaned, deodorised, blow dried and given a yummy pooch treat at the end of every bath.
Your local Aussie Pooch Mobile dog groomer can show you the right tools for effective brushing and how to get to those hard to reach spots. Other additional services such as grooming and trimming, Dog Facials, and pooch massage are also available.
Popular Curly Coated or Oodle Breeds
Some of the more popular breeds are the Curly Coated Retriever, Bichon Frise, Maltipoo, Poodle, Groodle, Schnoodle, Spoodle, Curly Coated Retriever, Cavoodle, Groodle, and the much desired Labradoodle.
The level of grooming required to maintain a healthy coat for a curly haired dog can vary depending on the breed. But don't fear, Aussie Pooch Mobile is here to give you some great tips to keep your curly haired dog looking and feeling their very best.
Curly Haired Dog Tips
Brush Regularly
It is very important to make sure your curly haired dog is free of knots and tangles as these can trap bacteria and cause irritation and sores. We recommend brushing at least 3 times a week.
Regular Trims
The hair around your curly haired dog's face and rear end requires regularly trimming to stop any build up of dirt and debris. These areas of your curly haired dog can become rather smelly if unkept.
Regular baths
To maintain a more manageable coat and reduce the risk of skin irritation & infections, we recommend regularly bathing. Many Oodle & Curly Coated breeds have tightly packed, almost water resistant hair. Use a deep massaging technique with a dog safe shampoo to loosen up debris and remove excess oils that may be contributing to any bad odours.
If you have a Curly Coated dog or an Oodle breed and want some help caring for their coat - contact you local Aussie Pooch Mobile operator now on 1300 369 369 and ask about our standard dog wash service.
We also have available the wonderful Static Stopper Detangler to use at home between baths to keep your pooch looking and feeling fabulous.
Contact Aussie Pooch Mobile Dog Wash for all your pooch needs.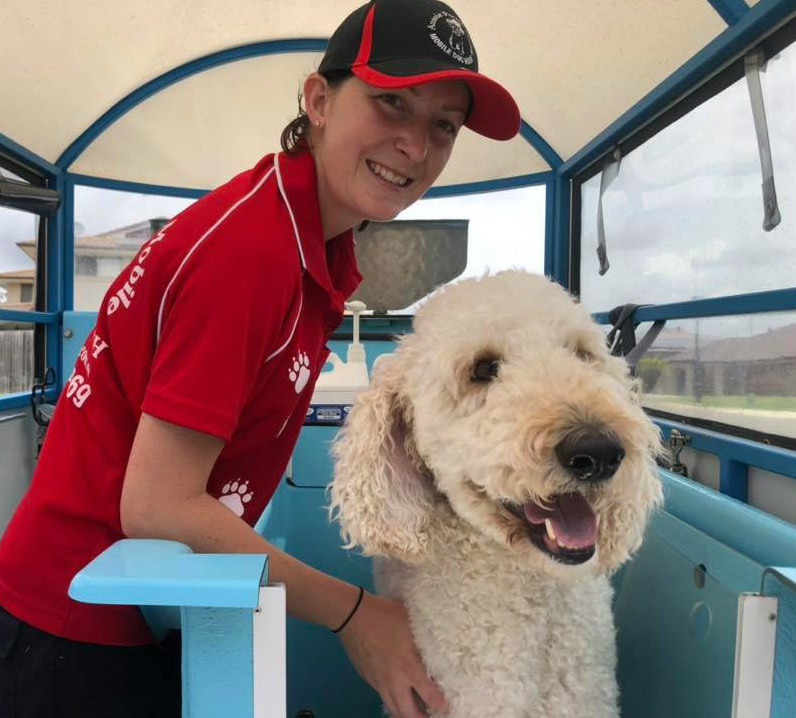 We know you care about the health and happiness of your dog, and we do too!
"I love the support APM provides. I love my job because I love what I do and guaranteed I will laugh daily with the silly things dogs do" - Jelica Poljakovic. Franchisee Victoria