A recent survey has shown that despite the long hours, self employment overall is more satisfyingly than regular employment.
Maybe it's…
Being your own boss

Working your own hours

A sense of ownership

The freedom

More control over your business

Financially more beneficial

Finding your own work/life balance

Challenging yourself

Feeling the pride of building something yourself
The statistics
Whatever the case may be a Vistaprint study has shown that roughly one-third of self-employed people rated their career satisfaction at 9 out of 10 or greater. This is more than twice the proportion of employees who gave themselves a similar satisfaction rating.
It is most noteworthy and surprising that the survey showed that it was not the case of less time at work equaled greater satisfaction. On average 33% of business owners work 50 hours a week compared to just 5% of employees. But despite the long hours and hard work, self employed people also reported being less stressed.
A message from the Aussie Pooch Mobile Dog Wash Founder- Chris Taylor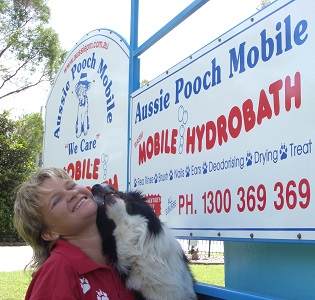 "When your company's success lies in your hands, it can be easy to take on too much, and the extra weight of responsibility and knowing what to do and when to do it is just one of the many challenges I was faced with. I started Aussie Pooch Mobile back in 1991 and it was very much a learning process and in the beginning I did make many mistakes. There is no rule book for starting your own business and it can be tiring and daunting. That is why, when Aussie Pooch Mobile became successful, I decided to franchise the system.
I wanted to create a business module and an incredible support team to help others be in business for themselves but not by themselves. Although to succeed in any self employment industry you need drive,  our module and amazing team has already taken out a lot of the guess work for you and will give you all the support you need to succeed."
If you think you have the motivation and love of dogs that self employment within Aussie Pooch Mobile thrives on, why not give our Support Manager Mark Welham a call on 0411 553 796. Mark will be able to discuss the self employment opportunities Aussie Pooch Mobile has available and can also set you up for a Discovery Day where you can literally trial your new career.
1300 369 369 / Visit our website / Follow us on Facebook / Join our Pack