It is well known that February is the month of love. We celebrated Valentine's Day on the 14th and Love Your Pet Day on the 20th or here at Aussie Pooch Mobile Dog Wash, we have celebrated for the entire month of February.
Now is the time to LOVE what you do. Love your job, love your career, and love the rewards and success that come with it.
Want to hear from people who have taken the leap towards doing something they love?
Emily joined the Aussie Pooch Mobile Dog Wash community in 2010 and loves what she does and has never looked back. See Emily's journey below.
Meet Peter Statham. Peter is our longest serving franchisee and has been with Aussie Pooch Mobile since 1996.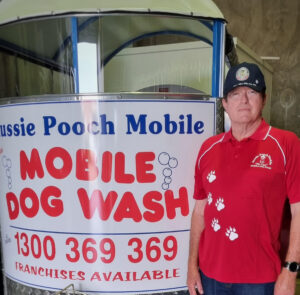 "I have been washing dogs for over 25 years now and I wouldn't change a thing. I love the animals and the flexibility. I have managed to work around my kids when I first started, to now working around the grandkids, being able to take them to sport and drop them off at school. A lot of things have changed, but my love of dogs and how much I enjoy my career has never changed. It was definitely the best choice I made."
– Peter Statham.
If you want to love your career, now is the time to make the change. So many of our franchisees say they wish they had done it sooner.
Instead of dragging your feet going back to your everyday job, take the leap towards doing something you will LOVE and contact us today to find out how you can go out on road on a Discovery Day with one of our senior franchisees and see what it's all about.
1300 369 369 / Visit our website / Shop / Facebook / Instagram / Join our pack / Youtube