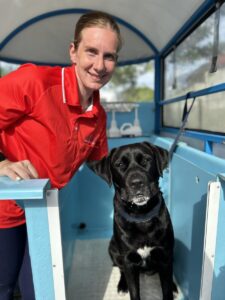 We are thrilled to introduce you to Suzanne Shelley, the newest addition to our Aussie Pooch Mobile Dog Wash family in Salamander Bay, NSW.
A dedicated dog lover with a heart overflowing with passion for our furry companions, Suzanne joins us on this exciting journey showing the magic that happens when you follow your heart and turn your passion into a profession.
Before Suzanne decided to take this life-changing step, she wore many hats, including that of a busy mother of four and a skilled chef. However, she yearned for a job that would allow her to balance her family life and her passion for dogs. It was in this quest for balance that Suzanne discovered Aussie Pooch Mobile Wash.
Suzanne's dedication to her family and her furry friends is truly admirable. Her decision to become a franchisee with Aussie Pooch Mobile Wash not only allows her to pursue her passion for dogs but also provides her with the flexibility she needs to be there for her family. It's a perfect harmony of work and life, something we all strive for.
As Suzanne embarks on her new journey, the Aussie Pooch Mobile team couldn't be more excited to have her on board.
Let's all join in congratulating Suzanne on this new adventure and wish her success as she pampers our canine companions at Aussie Pooch Mobile Dog Wash Salamander Bay! If you're looking for a mobile dog wash service filled with love and care, Suzanne is your go-to person.
Welcome to the family, Suzanne! 
1300 369 369 / Visit our website / Shop / Facebook / Instagram / Join our pack / Youtube