At Aussie Pooch Mobile we feel that every dog deserves presents! That is why our groomers stock a range of different pooch presents for you to really spoil your furry friend! When your local Aussie Pooch Mobile groomer comes to your home to pamper your pooch, they can also provide you with affordable pet products! Below we have featured a few of our wonderful pet products.
Pooch presents for FOOD LOVERS
Chicken Dental chews- These chews help to prevent nasty oral diseases such as periodontal disease, gum disease and classic cases of doggy breath! Furthermore, they are made with Australian chicken that you dog will love as a present!
Pooch Cookies- These Australian made, healthy, 100% natural treats are perfect for rewards and training. Our Pooch Cookies are made with real liver that even the fussiest of dogs go crazy for! Read more about our Pooch Cookies here…
Aussie Pet Pantry- Australian made treats for your pooch. Choose from chicken or liver flavour in bone shaped crunchy biscuits or soft and chewy chicken bites. Your pooch is sure to be jumping with joy over these yummy treats!
Pig and Lamb ears- These yummy, crunchy snacks are low in fat and cause little to no mess. Pig ears are a great present for larger dogs and lamb ears are smaller in size, and are perfect for smaller dogs.
Pooch presents for MANLY POOCHES
Have your manly dog choose from Herbal Deodorant or Cologne Detangler. They will be smelling and feeling their very best! Both of these Pooch Perfumes are easily sprayed onto your dog in between their baths. Available in 35ml bottles or 250ml bottles.
We also have very manly, squeaky meat toys available!
Pooch presents for ENERGETIC DOGS
Pooch toys are essential for your dog's long term health and some toys are excellent for energetic dogs. We have ball launchers, tennis balls, rope toys, silicon dog balls plus many more, available to purchase from your local groomer! Toys are great fun for your pooch and also help to stimulate their mind.
Pooch presents for ALL POOCHES
Aromacare Pooch Perfumes- Your fur baby will smell divine with our Aromacare Pooch Perfumes, made with essential oils specially made for dogs. These spray-on pooch perfumes comes in 2 different scents, Lavender and Rosemary. Lavender is said to be calming and has a relaxing scent while Rosemary may uplift you and your dog's spirits. These are easy to spray directly onto your pooch in between their regular baths and will keep your fur baby smelling and feeling great! Available in 35ml and 250ml bottles.
Grooming equipment- Does your pooch enjoy a massaging brush? We have a wide variety of grooming equipment available to purchase.
Aromacare Dog Facial and Pooch Massage- Why not spoil your pooch with an Aromacare Dog Facial or Pooch Massage with their next hydrobath service?
DIY pooch present
No Aussie Pooch Mobile groomer's in your area? or you would rather hand make your pooch something unique this Christmas? Why not try making this dog toy for your furry friend. All you need is some material in your dog's favourite colours (your dog is sure to love some of your old T-shirts with your scent still on them!), scissors and a rubber band. Click HERE for the full instructions.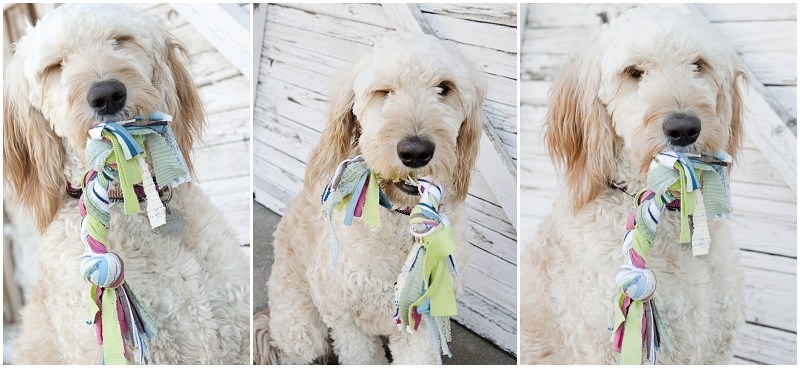 *Not all groomers stock all products. Please ask your local groomer what pooch presents they have available.
1300 369 369 / Visit our website / Facebook / Instagram / Join our pack