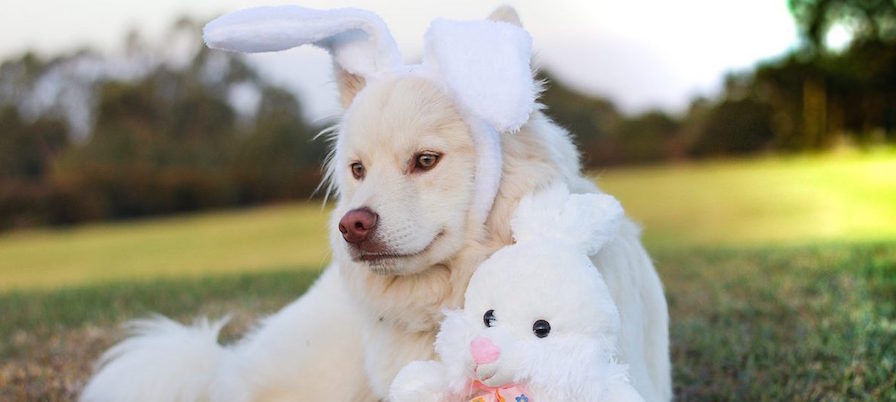 Easter is just around the corner and children are not the only ones who love playing games and hunting for eggs! A fun activity for the whole family is setting up a plastic Easter Egg hunt for your dog. Here are some tips on how to play this Easter…
Why plastic Easter eggs?
Because chocolate contains theobromine, a naturally occurring stimulant found in the cocoa bean. It is this ingredient in chocolate that can be fatal for dogs. So this Easter keep your pooch safe by keeping the chocolate all for yourself and set up an Easter hunt with plastic eggs. On another important note make sure the plastic Easter eggs you plan your hunt with are quite large. Smaller eggs can become a choking hazard for dogs. You can purchase these from your local cheap shop!
A dog's sense of smell
As we all know, dogs have an amazing sense of smell. To get your dog excited and to want to join in the hunt, you can hide a treat next to each plastic Easter egg. That way your dog will love hunting for the eggs as when he finds one he will also get a yummy reward!
Ideas for where the Easter hunt can be held
Keep in mind that some dogs don't play well with others especially around food. If that is the case you can have just as much fun with your pooch in your own backyard. You can place the plastic Easter eggs up on ledges or in a tree, (make sure your dog can still reach them though). If your dog is ok with other dogs and people you may want to take the kids down to the local park or even hold the hunt at your local dog beach. Where ever your dog loves playing most.
Pooch treats
If you don't think your dog will get excited over plastic Easter eggs, why not have a Pooch Cookie hunt instead? Or a Liver treat hunt! What ever your dog's favourite treat is, hide them and let him have some fun finding them this Easter!
We wish you all the best this Easter! -Aussie Pooch
1300 369 369 / Website / Facebook / Instagram/ Join our Pack