---
Working with dogs is the best outdoor job, says Emily
From showing backpackers around Australia to pampering dogs in Western Australia, Emily Slevin is a bonafide doggone success. She swapped a tour bus for a dog trailer and her business working with dogs has taken off in licks and barks. It was an enormous change, but the best decision she could have made. "I've always loved the outdoors and as a tour guide I got to see some amazing places in Australia. From Adelaide to Uluru and everywhere in between. It was a job I absolutely loved and it was really exciting, but not something you can do forever," says Emily.
But how did Emily decide that washing dogs was her future?
"I researched some options, and looked at other franchisee opportunities. I chose Aussie Pooch as I really related to the company morals and work ethic 'We Care'. I loved the way the business was run and I felt very comfortable and happy with the support and help I received when I started my own franchise and still receive now."
Emily took to her new job with gusto and won Franchise of the Year
"Winning the Franchisee of the Year award at the beginning of my franchise journey meant the world to me. It is such a great feeling to have all your hard work recognised and to know that you're running a successful business."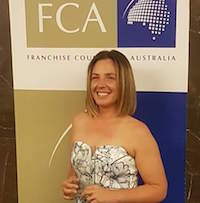 Emily's further success in franchising
Emily has since won another major award called FCA WA's 2018 Franchise Woman of the Year and is now managing the whole Aussie Pooch Mobile dog wash team in Western Australia.
"We are so lucky and grateful to have such an inspirational woman that cares so much about people and dogs managing our Western Australia team. This is such a huge achievement for Emily and she should be very proud of all she has achieved at such a young age." says Aussie Pooch Mobile Founder, Chris Taylor.
On top of all of this, Emily also came up with our Puppy Intro Program which introduces puppies to the bathing and grooming process which has been implemented throughout Aussie Pooch Mobile.
But does she ever miss the travelling?
"I do miss it sometimes, but I love that I have a successful business that gets me hanging out and working with dogs all day and it also gives me the lifestyle balance I want, so I can spend more time with my family. I also love being greeted every morning with wagging tails and lots of kisses. I truly feel I have the best job, not only in Western Australia, but in the world."
Want to join the Aussie Pooch Mobile pack and run a successful business just like Emily?
Aussie Pooch Mobile dog wash is much more than just a business. We are a dog wash and care service with caring groomers operating all over Australia. When you commence with Aussie Pooch Mobile it truly is like becoming part of a big family business. Our string of awards and successful franchisee's are a testimony to that. If you love dogs and want to be part of our franchise family our support manager Mark, would love to talk to you. Contact Mark Welham on 0411 553 796 or you can fill out our franchise enquiry form HERE.